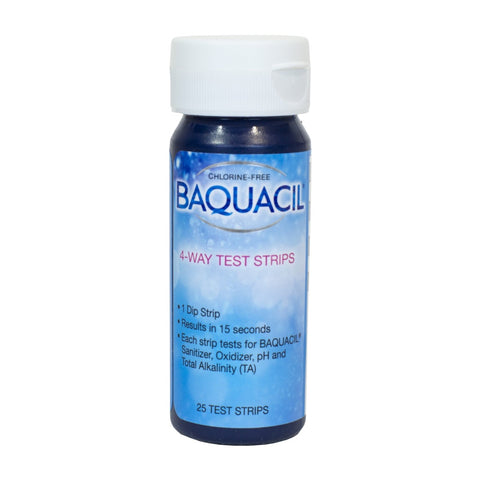 Baquacil 4-Way Test Strips (25 Strips)
BAQUACIL 4 Way Test Strips (25 count) easy and accurate to use.
Each strip tests for ph, total alkalinity, Baquacil Sanitizer and Algistat and Baquacil Oxidizer.
Simply dip and check against the chart on the bottle for results. Product Dosage
One test strip per test
Directions: Remove a Baquacil Test Strip from bottle.
Replace cap tightly.
Dip strip into pool for one second and remove.
Do not "swish" strip, as this will affect test accuracy.
Do not shake excess water from test strip.
Immediately compare Baquacil Oxidizer pad to color chart.
After 15 seconds compare Baquacil Sanitizer and Algistat, ph and Total Alkalinity pads to color chart.
Adjust readings within desired range.
Follow label directions on each product.