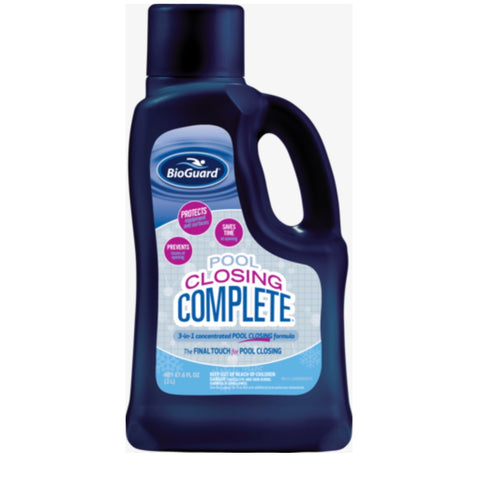 BioGuard Pool Closing Complete (67.6 fl oz) New size!
BioGuard Pool Closing Complete 67.6 oz
The Final Touch for your Swimming Pool Closing
3 in 1 Concentrate Pool Closing Formula
BioGuard Pool Closing Compete is specially formulated to condition pool water for cold temperatures. This 3 in 1 concentrated formula will help protect your swimming pool water, surfaces and equipment in contact with the water during cold weather months.
This product is the perfect addition to the BioGuard Arctic Blue Winter Kit for compete water care.
Directions for use: Shake well before using. Apply bottle (72 fl oz) for up to 25,000 gallons of swimming pool water. For swimming pools less than 12,000 gallons, apply half of the bottle.
Apply slowly and directly into swimming pool water while walking around the deep end of the swimming pool. Allow pump and filter to operate for at least 2 hours after application