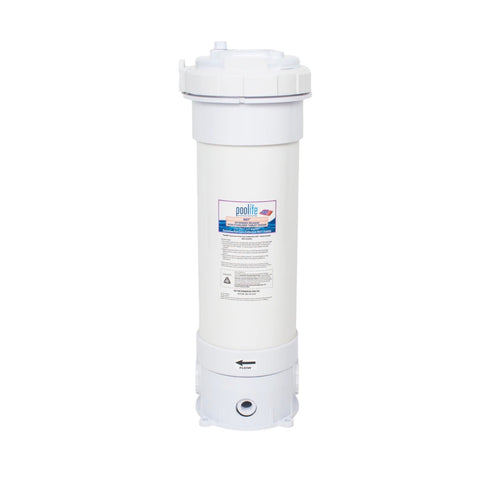 Poolife NST Prime Feeder
Description
The poolife NST Tablet Feeder is designed to sanitize pools using the Poolife NST Feeder Tablets that are also part of the Exclusive Pool Care Collection. Easily adjust the flow of chlorine to allow the correct chlorine residual is always present in your water at all times. Use this feeder to efficiently sanitize your pool water to ensure a safe bathing environment for everyone to enjoy.
Instructions
READ CAREFULLY: This feeder is designed to use only slow-dissolve cal-hypo tablets. Under no circumstances mix cal-hypo tablets with other forms of concentrated chlorine or with other chemicals. Fire and/or explosion may result. Lubricate o-ring with approved silicone o-ring lubricant only. If you are not the original owner of this feeder, or not sure which chemical was used, be safe and flush thoroughly with fresh water. Caution should be used when removing cap. DO NOT INHALE FUMES.
Turn control valve to the complete OFF position and SHUT OFF THE PUMP.
Using CAUTION, remove cap and fill the feeder with poolife NST Feeder Tablets. For best results, stack tablets vertically in the feeder.
Replace cap, hand tighten lock nut only until tab clicks into place. Make sure the o-ring is clean and in place. Lubricate with approved silicone.
Open control valve to your original setting. Turn pump back on. The feeder is now back in operation. Refer to manual to for additional information.