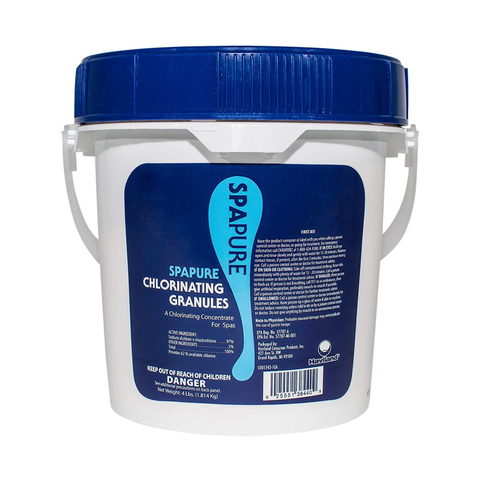 SpaPure Chlorine Granules (4 lb)
The SpaPure Chlorinating Granules is an effective concentrate that will control bacteria in hot tubs and spas.
Regular use of this product will help maintain both water clarity and sanitizer levels.
When used routinely with a proper test kit, this product will ensure safe spa water.
Concentrated chlorine formula
Effectively controls bacteria
Maintains sanitizer levels and water clarity
Directions Routine Application:
With circulation pump on, add 1 tablespoon of or 1/2 an ounce of this product for every 500 gallons of water.
Regular additions will be necessary to maintain 2-4 ppm of free available chlorine at all times.
Actual dosages of product required to maintain the desired free chlorine residual will way with spa use and water temperature.
Use a test kit frequently to determine and maintain the proper free chlorine residual.
Shock: Add 2 tablespoons or 1 ounce of this product for every 500 gallons of water.
Maintain operation of your pump and filter.
Regular additions will be a least once a week.
Additional treatments may be necessary when the spa is being used frequently or when spa is used by multiple people.
Ingredients Sodium Dichloro-s-triazintrione:97% Other Ingredients:3%