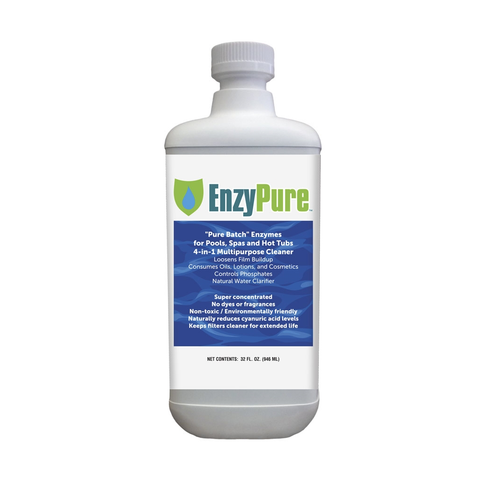 EnzyPure (32 oz)
Enzy Pure is a 4-in-1 multipurpose cleaner!
Super concentrated
No dyes or fragrances
Non-toxic / Environmentally friendly
Naturally Reduces cyanuric acid levels Keeps filters cleaner for extended life
EnzyPure is a proprietary blend of biodegradable, environmentally friendly enzymes designed to work with all swimming pool, spa and hot tub water treatment programs.
EnzyPure naturally consumes un-filterable contaminates (such as body oils, suntan lotion, cosmetics, etc.), leaving pool water clean, clear, and soft.
EnzyPure naturally aids in the removal of excess phosphates that act as food for algae. EnzyPure does not contain cyanuric acid (CYA) and continued use has shown a reduction of CYA levels.
Made in the USA by PristineBlue