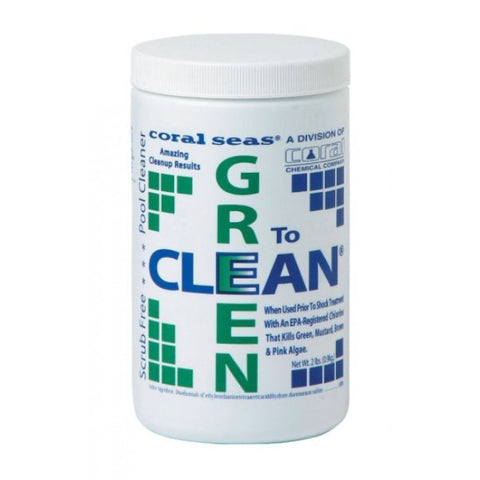 Green To Clean by Coral Seas (2 lb)
SAFELY TURN YOUR POOL FROM GREEN TO CLEAN IN LESS THAN 24 HOURS!
Starts working on algae instantly!
Fast cleanup of green, mustard, brown or pink algae in just six steps.
Green to Clean enhances the power of chlorine when used after chlorine-based shock treatments.
Safe for all pool surfaces.
Scrub-free and leaves no metal residue behind that may stain your pool surface. Never premix Green to Clean with chlorine or any other chemicals.
Add Green to Clean to your pool, wait five minutes and then add chlorine-based shock to your pool.
Watch your pool turn from green to clean! Also works great with salt water generation systems.
Recommended dosage: 2 lb per 15,000 gallons of water, concentrating on problem areas. Run filter continuously for 24 hours after adding.
Note: the pH should be equal to 7.8 or higher.