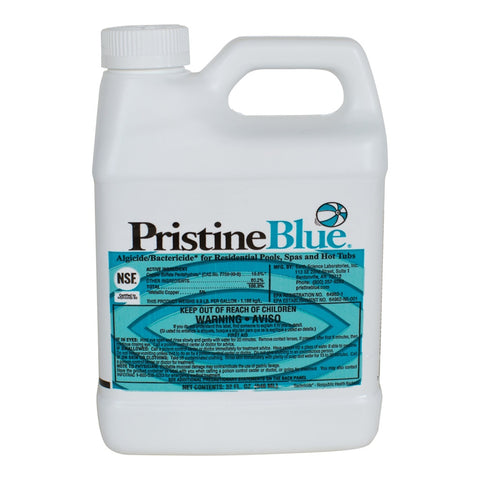 Pristine Blue (32 oz)
Pristine Blue is the heart of the Pristine Blue non-chlorine pool and spa system. When using Pristine Blue you can swim immediately after application. This product is used to control algae and bacteria in residential swimming pools and hot tubs. Best of all Pristine Blue is environmentally friendly, and EPA registered as an algaecide/bactericide(Nonpublic Health Bacteria).
Product Dosage
Swimming Pool Start Up:
2 ounces per 1,000 gallons of water.
Hot Tub Start Up:
6 milliliters per 100 gallons.
These dosages will yield a rate of 0.9 ppm metallic copper. Pristine Blue levels should be checked every 2 weeks.
Directions
To control algae and nonpublic health bacteria and bacteria that cause odor problems in residential swimming pool, spas and hot tubs:
For Pools:
Apply at a rate of 2 fluid ounces of Pristine Blue per 1,000 gallons of water (20 fluid ounces per 10,000 gallons)
For Spas and Hot Tubs:
Apply at a rate of 6 milliliters of Pristine Blue per 100 gallons of water using supplied measuring cup.
These dosages will yield a rate of 0.9 ppm metallic copper.
Every 14 Days:
Test the copper level using a standard commercial swimming pool copper test kit. Add Pristine Blue to raise level back to 0.9 ppm. The amount of Pristine Blue to be added is proportional to the starting concentration and volume of water. Do not exceed 1.0 ppm metallic copper.
Application and Handling Equipment:
Application, handling or storage equipment MUST consist of fiberglass, PVC, polypropylene, viton, corrosion resistant plastics or stainless steel. Never use mild steel, nylon, brass or copper around Pristine Blue. Always rinse and clean equipment thoroughly each night with plenty of fresh, clean water.
Ingredients
Copper Sulfate Pentahydrate (CAS no. 7758-99-8):

 
19.8%,
Other Ingredients:

 
80.2%,
Metallic Copper:

 
5%