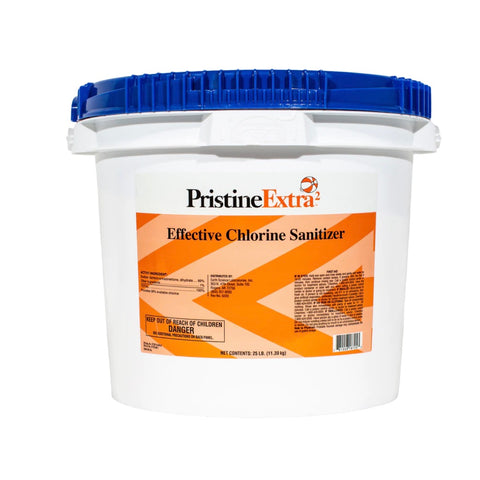 Pristine Extra (25 lb)
Pristine Blue Pristine Extra is used in the start up of the Pristine Blue chemical system.
This chlorine shock dissipates rapidly, thus bringing your pool or spa back to a non-chlorine status quickly. Pristine Extra may also be used for troubleshooting pool and spa water.
Product Dosage For Pools: 1 pound per 10,000 gallons of water at start up.
For Spas: 5 milliliters (1 teaspoon) per 100 gallons of water at start up. Directions
For spas or hot tubs, apply at a rate of 5 milliliter or 1 teaspoon of Pristine Extra per 100 gallons of water.
For pools, apply at the rate of 1 pound of Pristine Extra per 10,000 gallons of of water in the deep end of the pool.
To prevent damage to pool surface, use a pool brush to disperse any granules that may have settle to the bottom of your pool. Never allow undissolved product to rest in contact with bleach-able surfaces.
In water temperatures less than 70 degrees, or as an alternate application procedure, pre-dissolve the product prior to applying evenly to the deep end of the pool.
Dissolve this product outdoors in a clean plastic bucket stirring with a clean plastic or wooden spoon. Add the product to water, never add water to product. Never add more than 1 pound or this product to 3 gallons of cool water.
Do not mix with other product when pre-dissolving. ReEntry: Reentry into treated pools is prohibited above the levels of 3 ppm of chlorine due to risk of bodily harm.
Ingredients Sodium Dichloro-s-Trizinetrione Hydrated: 99%, Other Ingredients: 1%, Available Chlorine: 55.5%