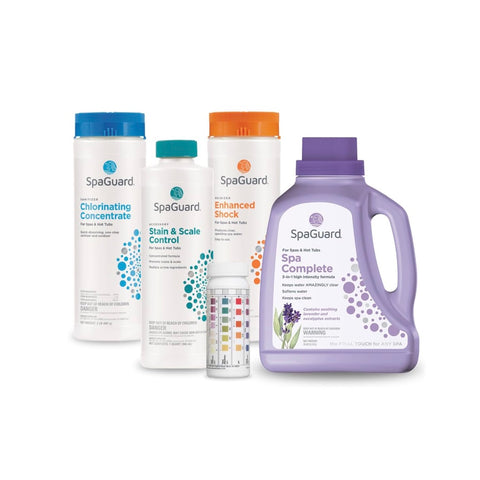 SpaGuard Bundle Kit - 1
SpaGuard hot tub chemical supplies bundle
SpaGuard Chlorinating Concentrate 2lb
SpaGuard Chlorine Concentrate is a quick-dissolving spa chlorine granule that contains 99% active ingredient leaveing little room for filler materials that can clog your filter, cloud water, or build up on the waterline. Granules may be added directly to hot tub water, no pre-dissolving needed.
SpaGuard Enhanced Shock Spa Oxidizer 2lb
SpaGuard Enhanced Shock is a multi-purpose shock designed for hot tubs and spas that serves as a shock, clarifier, flocculent, & pH buffer all in one. Enhanced shock removes odors, restores water sparkle, and is compatible with chlorinated or brominated spas as well ozone or ionization systems.
SpaGuard Spa Complete 70oz
3-in-1 Clarifier, Freshener, and Softening Formula
SpaGuard Spa Complete utilizes a high-intensity, triple-action formula that makes spa water feel wonderfully soft, look sparkling, and keep the spa water noticeably clear. This proprietary combination improves the spa owner's experience while reducing the complexity of hot tub water maintenance. The bottle features a sturdy pour spout and a 4oz. dosing cap. Lavender and eucalyptus extracts create a relaxing and soothing spa aromatherapy experience. The final touch for any spa.
Stain & Scale Control 1 Qt
SpaGuard Stain & Scale Control prevents & removes metal stains & keeps scale from forming on surfaces & equipment.
5- Way Pool & Spa Test Strips
5-Way Pool and Spa test strips quickly and easily test for pH, Alkalinity, Calcium Hardness, Bromine, and Chlorine levels. 50 count.
SpaGuard Hot Tub Startup Chemical Bundle
With Spa Complete
This SpaGuard spa chemical bundle includes the products needed to get your hot tub water ready for use including Spa Complete to give your water a fresh and soft feel. The soothing lavender and eucalyptus extracts provide a relaxing and enjoyable scent to elevate your spa experience. Compatible with all types of hot tubs including inflatable, soft sided, vinyl, swim spas, and portable hot tubs.