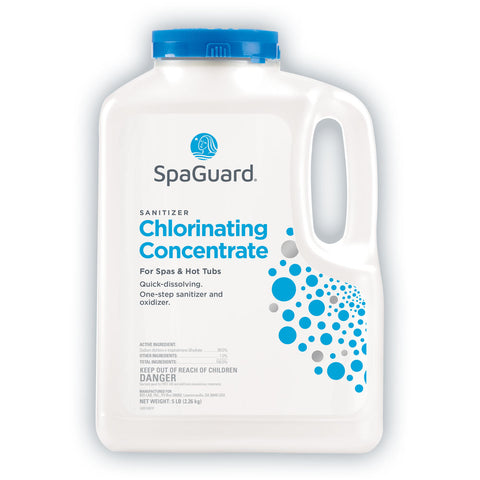 SpaGuard Chlorine Concentrate (5 lb)
The sanitizing power of chlorination in concentrated granules. Chlorinating Concentrate should be added directly to spa water while the pump is running. Use regular doses as a sanitizer and shock doses as an oxidizer. SpaGuard Chlorine Concentrate is a granular stabilized chlorinator, it's fast acting, quick dissolving and acts as a sanitizer and oxidizer; no need for two products. No pre-dissolving needed, it can be added directly to your spa.
When you use SpaGuard® or Soft Soak® products, you are enlisting a group of individuals whose expertise is unsurpassed in the spa and pool industry. Whose dedication to helping you achieve perfect water no matter what the individual circumstance is their number one priority. Whose sole purpose is making your spa or pool the most enjoyable and trouble-free experience that you and your family will ever have. Whose dedication to the innovation and history of new product introductions is never matched, but often imitated. This dedication to service and the relentless pursuit of perfect water is inherent in the DNA of every SpaGuard dealer.
Product Information:
99% sodium dichloro-s-triazinetrione dihydrate
pH 6.5
Granular stabilized chlorinator
Fast acting
Acts as a sanitizer and an oxidizer
May be added directly to spa, no pre-dissolving needed.
For Routine Maintenance
Directions for use:
1. Add 1/2 teaspoon per 100 gallons (5tsp. per 1,000 gallons) every 15-20 minutes until chlorine residual of 3-5 ppm is achieved)
2. Test regularly to determine frequency of additional doses of product.
3. Add as needed to maintain 3-5ppm.

For Super-Chlorination:
1. Add 1 teaspoon per 100 gallons (1/4 cup per 1,000 gallons)
2. May be needed nightly in a heavily used spa or as infrequently as once-a-week in a moderately used spa.