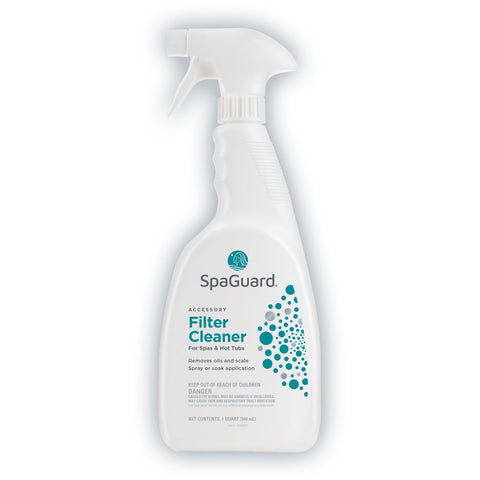 SpaGuard Filter Cleaner (1 qt)
SpaGuard Filter Cleaner chemically breaks down oils and dirt that stay embedded in your filter's fabric. It helps keep water clear by promoting better filtration. 
Product Information:
Cleans oil and scale from filters of all types
pH 1.0
Helps keep water clear by promoting better filtration
Easy to use applicator
Directions for use:
1. Remove filter elements and remove excess debris with garden hose with a pressure nozzle
2. Spray this product directly onto the filter and allow to soak for 15 minutes. Light brushing may be required for heavy oil, dirt or scale accumulations. As an alternative, place the cartridge into a solution of 1 part of this product mixed with 3 parts water. Allow to soak for 1 hour
3. Rinse elements clean with maximum garden hose pressure
4. Reassemble filter and resume normal operation
5. Spa and hot tub filters should be cleaned every 4-6 weeks using SpaGuard Filter Cleaner.