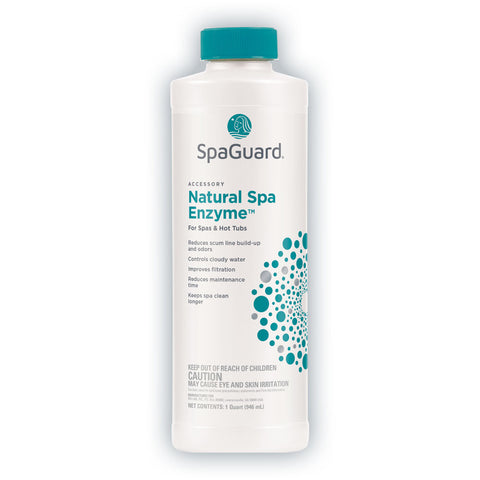 SpaGuard Natural Spa Enzyme (1 qt)
SpaGuard Natural Spa Enzyme eliminates oils before they collect at the waterline or clog the filter by converting them into carbon dioxide and other easy to remove compounds.
Product Information:
Enzyme formulation breaks down oils naturally
pH 3.0-4.5
Reduce scum line build-up and odors
Controls cloudy water
Reduce maintenance time
Keeps spa clean longer
Directions for use:
(Use container cap as a convenient measure)
1. Add 2 tablespoon or 4 capfuls of SpaGuard Natural Spa Enzyme per 100 gallons of water
2. Pour directly into the water with the spa circulation system operating
3. Add the recommended dosage weekly in residential spas. In heavily used spas increase frequency to twice or three times per week. Do not increase dosage.
Spa Maintenance Tips:
1. Test spa water a minimum of once a week
2. Keep water pH between 7.2 and 7.6
3. Refill residential spas and hot tubs every 3 months, heavy use commercial spas every 8 days
4. At refill time, clean spa surfaces with SpaGuard Surface Cleaner
5. Back wash and clean filter with SpaGuard Filter Cleaner & Degreaser a minimum of every 60 days
6. This product may contain a sediment, shake well before use